A lake is the landscape's most beautiful and expressive feature. It is earth's eye; looking into which the beholder measures the depth of his own nature. – "Walden, Or Life In The Woods" by Henry David Thoreau, 1854.
It's summertime in Northern Michigan & Midge & Co believes that Life Is Better At The Lake!! There is simply something very special about #lakelife!  In light of the summer season, we would like to share our top 5 reasons living the lake life is the best life there is.
If you already know that lake like is for you, what are you waiting for midgeandco.com check out our waterfront listings!
1.Water sports at your fingertips …
If you love boating, tubing, water skiing, or wakeboarding you'll love being able to play on the water right from your backyard whenever you want!  Even if you just enjoy watching the adrenaline junky enjoy these activities, you'll be highly entertained either way.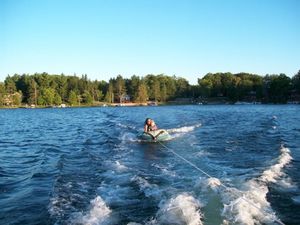 2.Front row seat to sunsets…
Watching the sunset is always magical but it just doesn't compare to a sunset at the lake.Sit back and enjoy your own personal show every evening. Something about the lake makes the colors and hues are more vibrant. You'll be in awe of the redder reds, pinker pinks, and bluer blues.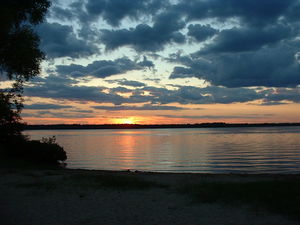 3.Beach bonfires are the best…
An evening at the lake is great but having a bonfire on the beach on the lake can make it the perfect evening. No matter if you are young or old, everyone loves to hang out together by the fire as it dances, snaps and crackles, make s'mores, and tell ghost stories.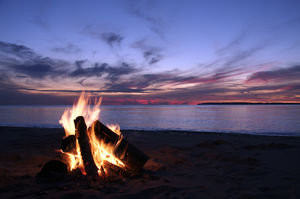 4.Photo ops…
When you live on or near a lake, there are always great photo opportunities; you're surrounded by beauty everywhere. From sunrises to sunsets, "boat life" to wildlife, you have the best view of all of it. Of course, you can't forget the fantastic backdrops a lake provides for your awesome selfies, prom & dance photos or family photos.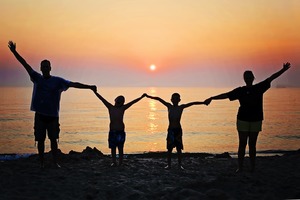 5.Easy entertaining…
Entertaining is always easier on the lake,  in fact, the entertainment is practically ready-made! Parties, cookouts, boat rides, bonfires seem more special at the lake and you can be sure that invitees will not flake at the last minute. In fact, you'll probably have more than expected. But that's ok, You're at the lake there's something for everyone to do.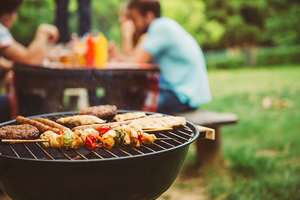 Midge
& Co
is your source for
waterfront
& vacation properties in the
Houghton Lake
&
Higgins Lake
areas.
contact us today
to take the first step towards lake life!