Looking for a beautiful new lakefront home in Northern Michigan? Roscommon County is home to two of Michigan's most beautiful lakes, Houghton Lake and Higgins Lake. But to many, the history of these two lakes, one of which is the largest inland lake in the entire state, is largely unknown.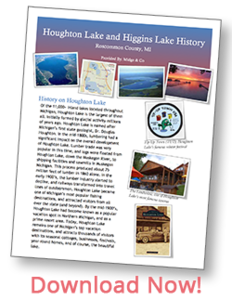 As one of Northern Michigan's premier real estate agencies, our goal at Midge & Co is to help our clients achieve the dream of finding their dream home. And to many, that means a lakefront home, that brings with it the benefits of scenic views, easy access to boating and fishing and the opportunity to build great summertime memories.
We currently have an inventory of many gorgeous lakefront homes, each with their own unique features. Let us find a home that will suit you and your family that satisfies everything you're looking for and more! And, if you're interested in learning more about the history of Houghton and Higgins lakes, be sure to download our history guide. You might just be surprised at what you'll learn!
Check out all of the available Northern Michigan lakefront properties right here on our website. At Midge & Co, we're your Northern Michigan real estate experts and look forward to hearing from you soon!