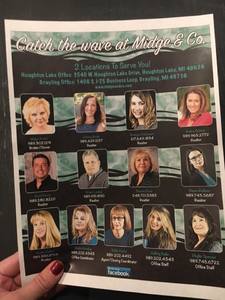 Starting to feel the winter blues? Catch the wave at Midge & Co! The Midge & Co Advantage provides you with the service of a knowledgeable local professionals who help make the home-buying or selling process easier to navigate from start to finish! Plus, sign a New Contract at with us at our Grayling or Houghton Lake office by Dec.10th & at closing and you can choose from $500 CASH BACK or a Free Home Warranty valued at $425!!
Help for Home Buyers
Our agents would love to walk you through your home buying experience! Our agents are there when you need them to ensure that you get the service and guidance you deserve when you've got a real estate need. Get started with our Comprehensive Real Estate Buyers Guide.
Help For Sellers
You can sell your home for more money when you list with an agent! If you liked the idea of more buyer exposure, higher offers from buyers and selling your home for top dollar, you'll love working with the Midge & Co team. Get started with our Comprehensive Real Estate Sellers Guide.
Ready to catch the wave with Midge & Co? With our team you will never be alone, will be there for you throughout your home-buying or selling experience. Contact one of our real estate agents today or put an experts eye on your home search right away with our Midge & Co's Perfect Home Finder!