Ahhh, the great debate, should you rent or buy your home? The obligation of a mortgage keeps people from buying their own home everyday. In reality reality even renting you are obligated to a mortgage, your landlord's. You are paying a high monthly payment and as a renter you leave all the benefits of a mortgage to the homeowner.
Reasons you should buy instead of rent.
With rents going up and interest rates at an all-time low, renters should consider taking the plunge. Real estate company Trulia reports that in many parts of the country, rents are rising while housing prices are falling, making buying a home more affordable.
Owning a home forces  you to save… As a homeowner you have to pay your mortgage every month, so you are routinely putting money away, instead of spending it on new shoes or fancy meals. How is paying a mortgage forced savings? If you eventually sell your home after the mortgage is paid off there's a good chance that, even after the costs of ownership, you can walk away ahead of the game.
Unlike rent, a fixed mortgage can't go up, even if the cost of everything else does. Interest rates are still at historic lows, making it one of the best times to secure a mortgage of your own!
Tax Deductions are given to home owners. If you are not a home owner you cannot take advantage of beneficial tax deductions.
Are you throwing away money on rent?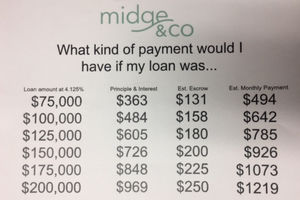 One of the most frustrating truths today's housing market is that, month to month, it's still actually cheaper to own a house than it is to rent a home. Midge & Co sees this trend sticking around as mortgage rates continue to stay low and rental prices are climbing.
Compare these mortgage rates to what you're currently paying in rent each month. Notice a difference?
Why You Should Still Talk to a Lender Even If You're Not Ready to Buy a Home
Of course, we understand buying isn't for everyone. If you might move soon, or you want the flexibility to change zipcodes with just a month's notice, maybe your job keeps you on the move, then renting can be ideal. Midge & Co urges potential buyers to first consider the transaction costs of home ownership, which can add up quickly, especially if you are not planning plan to stay put for very long.
If you're a first-time home buyer, you may feel like you're not ready to purchase a house. The three most common reasons people do not apply for a mortgage are less than perfect credit, too much debt or not enough income.
If you're planning to buy a house in the future but aren't financially ready, Midge & Co agents still recommend that you talk to a lender. Contact us and we can connect you with our recommended lenders and go through a pre-home buying consultation so they can either pre-approve you or walk you through steps to take to get pre-approved in the future. Have that conversation so you know where you stand and where you are going. It will be tremendously beneficial.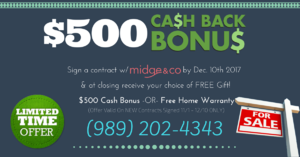 If you are a first time buyer please contact us at Midge & Co. , our agents are happy to help you through your home buying experience. For a limited time there's an added bonus of choosing Midge & Co, a $500 Cash Back Bonus! Any contracts signed by December 10th receive choice of a free gift at closing, $500 cash bonus or a free home warranty. If you're ready give us a call at (989) 202-4343 to discuss the details!