We see it every winter, sellers who take their homes off the market to wait to relist it in the spring. Midge & Co urges sellers to ignore your instincts to let your home hibernate, because winter offers unique opportunities for sellers.
Here are 4 Reasons that you shouldn't be waiting for the ground to thaw to get that Midge & Co sing in your yard
Less Inventory = More Attention
Because everyone thinks they shouldn't list their property during the winter months, by default there are very few homes to buy this time of year. What happens to all the buyers in the winter? Does everyone just suddenly stop their property search? Some do, but that doesn't mean there aren't still potential buyers on the prowl. That also means if your house is listed when supply is low, you're likely to have a lot more interest now than in spring when the market is saturated. Fewer options can also allow buyers to give your place a more open-minded look.
It is no secret that the supply of homes for sale has been far below the number needed for over a year. Supply is currently very low with only a 4.2-month supply. Six months of housing inventory is normally required to meet the demand. Recent real estate reports revealed demand for listings is very high and that there are more buyers right now than at any other time in the last twelve months. More buyers have been reported than any time during last year's spring market.
Job Relocations
Recent growth in the Grayling area is good news for sellers! These large companies moving into the area means that there is an assured populace that's going to be looking for a new home, quickly. If you have a listing within commuting distance, contact one of our real estate agents at our new Midge & Co Grayling office to make sure that your listing is marketed to the new employees coming to town.
Faster Home Sale
Homes actually sell more quickly in the winter months, even in cold-weather cities up north; it's counter-intuitive but true. Low inventory is quite likely a big factor. Also? Buyers are more focused and more motivated. Rather than wanting to go to showing after showing, they want the buying process to be over and done with, and so they're more willing to pull the trigger.
$500 Cash Back Bonus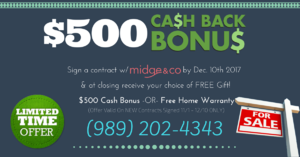 You wont find greater motivation to move the properties they represent, than you'll find with Midge & Co agents. Our agents take advantage of having more time and energy to focus on your cause finessing your online listing. Midge & Co is also on your side with a $500 Cash Back Bonus for all contracts signed now through December 1oth, 2017. Call us at (989) 202-4343 to get more details on this limited time offer!
There's no magic formula for determining when it is the best time to sell your house. The best advice that we can give is to partner with a pro you can trust to provide honest advice so you can do what's best for you and your budget. A good agent puts service before sales—but knows how to get things done when it's time to sell. Looking for a pro to guide you in the right direction? Midge & Co is the way to go!